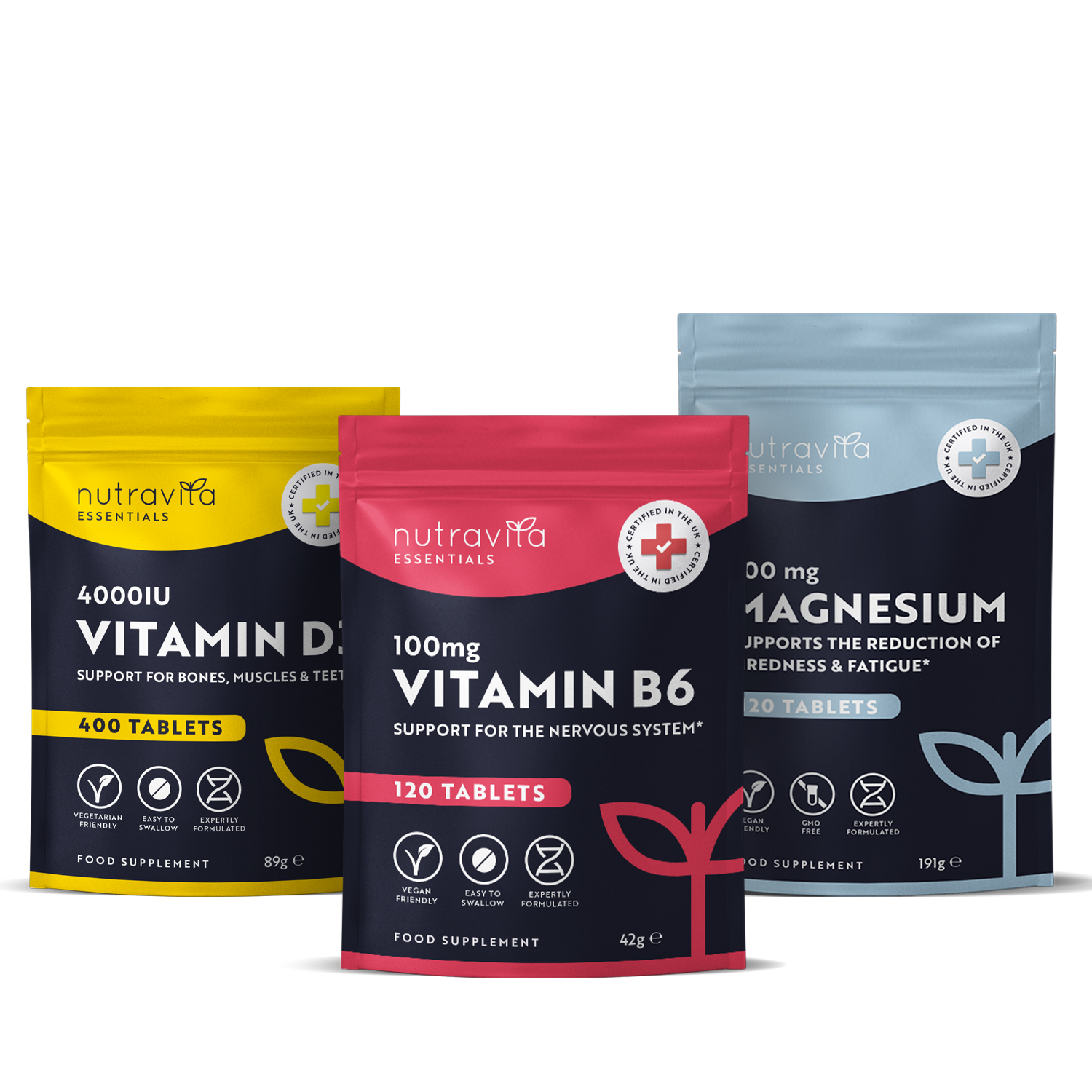 Menopause Essentials Bundle
Save

Liquid error (snippets/product-badge line 32): Computation results in '-Infinity'

%
The first product in this bundle is our our Vitamin D3 4000iu. Each pouch offers 400 tablets which is just over a one year's supply. It is vegetarian friendly and contains no synthetic fillers or binders and is free from allergens such as wheat, gluten, lactose, and nuts. Vitamin D is a very important nutrient. It is needed in our bodies to help regulate the amount of calcium and phosphate for the maintenance of normal bones and teeth, as well as being important for the normal function of the immune system. This product contains high quality Vitamin D in Cholecalciferol form to offer our customers the best absorbable Vitamin D supplement. Vitamin D is produced naturally by the body in response to sunlight and found in certain dietary sources such as oily fish, mushrooms and eggs. However, since it can be difficult to meet the required daily allowance from sunlight and food alone, taking supplements can help maintain satisfactory Vitamin D levels throughout the year.
Also included in this bundle is our Vitamin B6 supplement, which comes with a 4 months supply of 120 easy to swallow tablets. Our 100mg Vitamin B6 tablets offer several health benefits including support for the nervous system. B Vitamins have essential roles for various processes in the body to maintain good health and well-being. Vitamin B6 contributes to normal function of the immune system; normal energy-yielding metabolism and reduction of tiredness and fatigue; as well as normal psychological and nervous system function.
The final product in this bundle is our high potency and excellent absorption Magnesium formula, which contains 500mg per daily serving (1 tablet). Each pouch contains 120 easy-to-swallow tablets for a 4-month supply. Our Magnesium supplement is suitable for men and women, and for both vegans and vegetarians. Magnesium is also called "the mighty mineral" because the cells in our body depends on magnesium in regulating day-to-day metabolic reactions to help in the process of cell division and protein synthesis, to facilitate proper muscle and nerve function, and in maintenance of normal bones and teeth.
Menopause Essentials Bundle


Save

Liquid error (snippets/product-badge line 32): Computation results in '-Infinity'

%