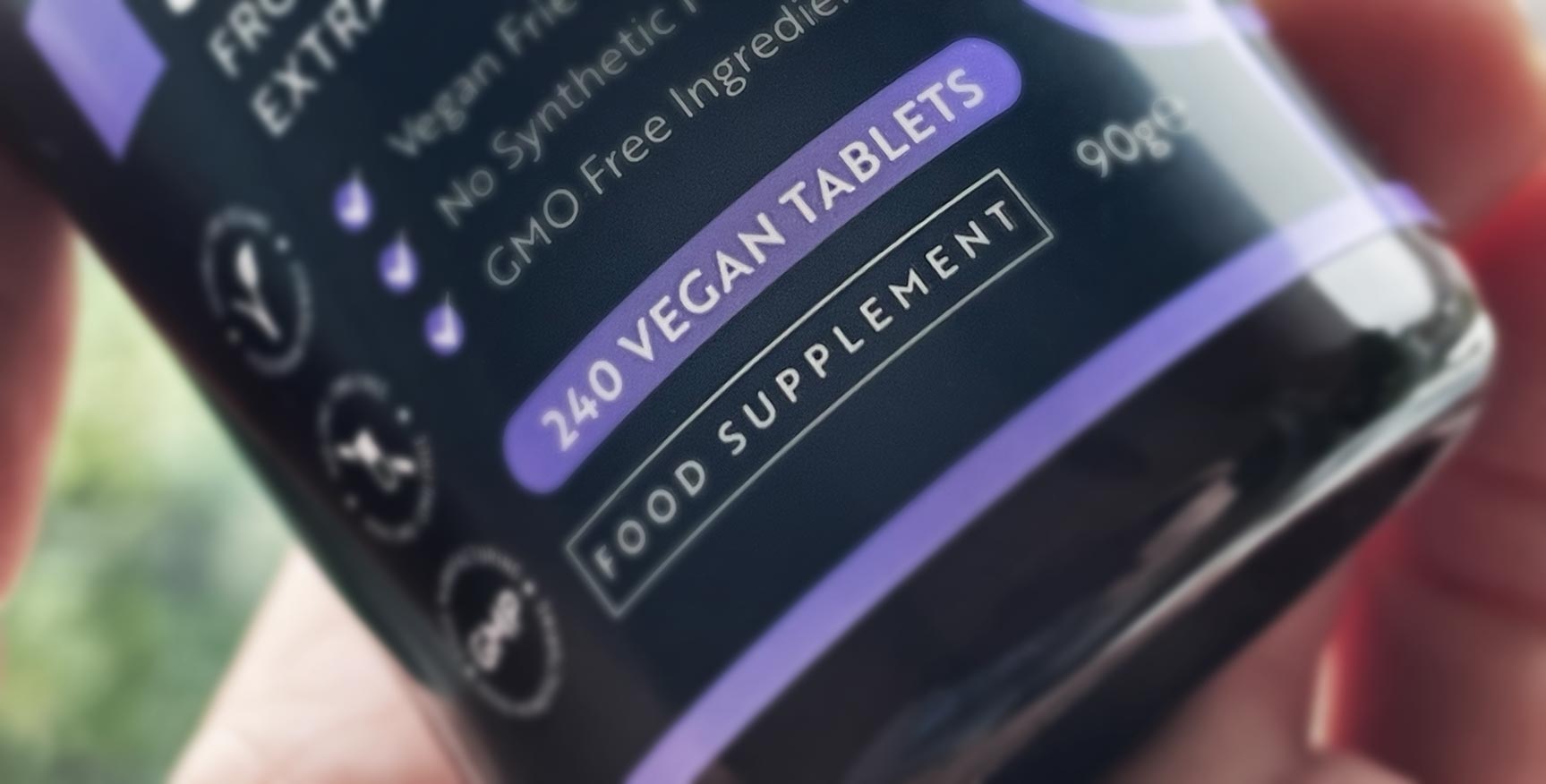 Nutravita's Vegan Product Range
That's the end of Veganuary, but we hope you will continue your Vegan journey. To help you along the way, here is our full range of Vegan supplements we supply, and why they would be a great addition to your daily diet!
Vegan Essentials
Our unique Vegan Essentials Mix is a Multivitamin and Multimineral supplement specially designed to provide the essential vitamins and minerals that might be missing in a plant-based diet. Moreover, our fantastic product provides a 4 month supply - 120 Vegan Capsules. Each tablet contains Calcium, Iron, Iodine, Zinc, Vitamin D3, Vitamin B12, DHA.  
SHOP HERE
Apple Cider Vinegar Complex +
Our supplement contains 1000mg of Apple Cider Vinegar PLUS added Cayenne Pepper, Turmeric and Ginger Root. Furthermore, our supplement comes with a 90 day supply. Our Apple Cider Vinegar Complex capsules are formulated using some of the finest quality ingredients and are designed to provide the maximum benefit of Apple Cider Vinegar liquid without the unpleasant aftertaste.  
SHOP HERE
High Strength Biotin with Coconut
Nutravita's Biotin with Coconut Oil plays a key role in the body. It supports the health of Skin & Hair. Biotin is an important B Vitamin which is water-soluble. It works in the metabolic process to break down protein, fats and carbohydrates. Biotin can be found in most foods that are high in protein, such as meat, dairy products and vegetables.  
SHOP HERE
200mg CoQ10
Nutravita's Co Enzyme Q10 contains naturally fermented and easily absorbed Coenzyme Q-10 or Ubiquinone per capsule. With 120 capsules per bottle at 200mg per capsule, you will be getting 24,000mg of CoQ10 per bottle.   SHOP HERE
1000mcg Methylcobalamin Vitamin B12
Vegans & Vegetarians are more susceptible to low levels of B12 which can cause anaemia and nervous system damage. The only reliable vegan/veg sources of B12 are foods fortified with B12 (including some plant milks, some soy products and some breakfast cereals) and B12 supplements. Vitamin B12, whether in supplements, fortified foods, or animal products, comes from micro-organisms.  
SHOP HERE
Ashwagandha Premium KSM 66
Ashwagandha (also known as Indian Ginseng or Withania Somnifera) is one of the most important adaptogenic herbs in ancient traditional Hindu medicine, Ayurveda. The Ashwagandha powder used in the making of our supplement is sourced from organic farmlands in India and have undergone a series of rigorous tests for our product to acquire Organic Certification by Soil Association.  SHOP HERE
440mg Magnesium Citrate 
Our high potency and excellent absorption formula contains 1480mg Magnesium Citrate per serving providing you with 440mg of needed Elemental Magnesium (The Good Stuff). Magnesium contributes towards the reduction of tiredness & fatigue and the maintenance of a normal nervous system, muscle function, normal bones and teeth.  SHOP HERE
400mg 5 HTP from Griffonia Seed Extract 
5-Hydroxytryptophan, also known as oxitriptan, is a naturally occurring amino acid and chemical precursor as well as a metabolic intermediate in the biosynthesis of the neurotransmitter Serotonin.   SHOP HERE

3500mg Maca Root
Maca Root is rich in minerals and definitely lives up to its 'superfood' status. It is high in certain minerals including potassium, calcium, magnesium and zinc as well as some B vitamins including B3 (niacin). Maca Root is also a good vegan source of Iron.   SHOP HERE
Organic Turmeric with Ginger & Black Pepper 
Our 3 month supply of high strength Organic Turmeric capsules have been formulated to provide with each 1440mg serving: 1340mg of Organic Turmeric (670mg per capsule), 80mg of Organic Ginger (40mg per capsule), and 20mg of Organic Black Pepper (10mg per capsule).  SHOP HERE
Multivitamins & Minerals
Our Multivitamin Tablets for Men / Women come with 26 Active Vitamins & Minerals that have been carefully selected to support you on a daily basis. Furthermore, our supplement comes with a fantastic 12 month supply, with each of the 365 Vegan Tablets containing the benefits of the 26 essential active Vitamins & Minerals. 
SHOP HERE
MCT Oil
MCT oil or Medium Chain Triglycerides (6 to 8 carbon molecules) are healthy fats naturally found in coconut oil. These forms of saturated fatty acids are easily digested and rapidly absorbed by the body without getting stored as fat in the process. Our Premium and Pure C8 MCT Oil is 100% Coconut Oil-derived providing 99% pure Caprylic Acid (C8) with NO Palm Oil.  
Cranberry Extract 12,500mg
Our unique High Strength Cranberry Extract supplement provides a potent 250mg of 50:1 Cranberry Extract per serving (1 capsule per day), which is equivalent to 12,500mg. The easy to swallow capsules contain the highest quality Cranberry Extract (Vaccinium Macrocarpon L.). This superfood has been used for centuries throughout the world for its many benefits.  SHOP HERE
Psyllium Husk
Our Psyllium Husk Fibre is 100% pure, high-grade powder that is derived from the seeds of Plantago Ovata plant and is encapsulated in an easy-to-swallow capsule format. It is naturally high in soluble dietary fibre to help you maintain your daily rhythm.  
SHOP HERE
500mg Organic Spirulina with 19% Crude Phycocyanin
Spirulina is an organism that grows in both fresh and saltwater. It is a type of cyanobacteria, which is a family of single-celled microbes that are often referred to as blue-green algae. This tiny alga is packed with nutrients. It contains Vitamin B6, Vitamin E, Vitamin B1, Vitamin B2, Vitamin B3, Zinc, Vitamin C, Iron, Potassium, Calcium, Protein, Phycocyanin, Chlorophyll and Polysaccharide.  SHOP HERE
We aim to make our products Vegan when possible. We will be updating some of the older products with new Vegan formulations, so watch this space!